Puerto Rico's Picture-Perfect Postcard Regions
There are many reasons to explore beyond San Juan and truly discover everything Puerto Rico has to offer. This Caribbean island measures approximately 100 by 35 miles, so in a couple of hours you can drive around the whole island, but allow yourself plenty of time to discover its six different regions. Each one has a unique identity featuring local cuisine, diverse cultural activities, tourist attractions, adventure tours and more.
Travelers planning a vacation in 2021 should consider the U.S. territory of Puerto Rico, as visitors will not be required to provide a negative COVID-19 test before returning home to the mainland U.S.
Metro
The metropolitan area of Puerto Rico is where history and culture intersect with bustling city life. Explore the urban side of Puerto Rico with food, drinks and shops in the seven towns that make up the "downtown" scene: San Juan, Cataño, Toa Baja, Trujillo Alto, Bayamón, Guaynabo and Carolina.
Old San Juan is a city with over 500 years of history, so everywhere feels like you're walking through a museum. San Felipe del Morro and San Cristobal castles are hot spots for soaking up the unique architecture of the city. Cataño is the place to be if you want to learn about the history of rum, especially at the Casa Bacardi distillery. The Metro area also has the largest shopping center in the Caribbean, Plaza Las Américas. Hotel and resort recommendations in this region are the San Juan Marriott Resort and Stellaris Casino and the Sheraton Puerto Rico Hotel and Casino.
East Region
Puerto Rico's east region offers secret and secluded sceneries of beaches, a legendary rainforest, historical museums, botanical gardens and intimate island excursions. Explore a combination of coastal and inland life in this region made up of 15 towns and two small islands: Loíza, Gurabo, Juncos, Las Piedras, San Lorenzo, Caguas, Canóvanas, Río Grande, Luquillo, Fajardo, Ceiba, Naguabo, Maunabo, Humacao and Yabuco.
Since the waters off the eastern coast of Puerto Rico are full of marine life, this is the ideal spot for adventurous travelers wanting to snorkel, dive, fish and boat. If you're seeking a secluded, relaxing day, visit Balneario La Monserrate. This beach is one of the best on the island and is filled with calm waters, on-site rental chairs and umbrellas, and kiosks within walking distance with local fritters, savory seafood and ice-cold beverages. Nature lovers can find comfort in the eastern region too by visiting the only sub-tropical rainforest in the U.S., El Yunque. Panoramic vista views, leisurely hikes around trails and canyoneering along waterfalls make it a nature lover's wonderland. That continues with the Jardín Botánico y Cultural de Caguas which connects visitors to museums, historical sites, monuments and art galleries inside the eastern region. Hotel and resort recommendations in this region are Wyndham Grand Rio Mar Puerto Rico Golf & Beach Resort, the St. Regis Bahia Beach Resort Puerto Rico and Hyatt Regency Grand Reserve.
West Region
The western region is where visitors can catch a wave and see some of the best sunsets while enjoying Puerto Rico's beautiful beaches. The west region is also the undisputed surfing capital of Puerto Rico. Towns in this region – Aguada, Aguadilla, Añasco, Cabo Rojo, Guánica, Hormigueros, Isabela, Lajas, Las Marías, Maricao, Mayagüez, Moca, Quebradillas, Rincón, Sábana Grande, San German, San Sebastián, Lares, and Yauco – have a more laid-back, relaxed approach to living. Surfers are known to flock to Rincón to ride its waves at iconic beaches like María's beach and Domes. Beginner surfers can find lessons in Isabela or Aguadilla.  The west region is the place to be for all types of water activities. If you prefer staying on dry land, visit Los Morrillos Lighthouse, a natural stone bridge (the Puente de Piedra), the salt flats and a white-sand beach, Playuela; all of which are located at the Cabo Rojo National Wildlife Refuge. La Parguera should also be on your list. It's a quaint fishing village in Lajas which is home to one of the five bioluminescent bays in the world. Hotel and resort recommendations in this region are the Royal Isabela which features a noteworthy golf course and a modest inn like Combate Beach Resort.
North Region
Puerto Rico's northern region offers impressive, captivating caves and beautiful beaches. The nine towns in this region – Arecibo, Barceloneta, Camuy, Dorado, Hatillo, Manati, Toa Alta, Vega Alta and Vega Baja – are known as the "northern karst belt" because of the area's large limestone hills. If you love to shop, you'll love Barceloneta which is home to the Puerto Rico Premium Outlets; an impressive collection of designer and name brand outlet stores that offer fantastic deals. Mar Chiquita has won the Travel Influencer Award and is the place to be for amazing panoramic views and an incredible beach day in Manatí, just 45 minutes away from San Juan. Hotel and resort recommendations in this region are the amazing Dorado Beach, a Ritz-Carlton Reserve, Embassy Suites by Hilton Dorado del Mar Beach Resort, and the Punta Maracayo Resort.
South Region
Immerse yourself in the island's culture and history hub filled with colorful architecture, historic art scenes and stunning natural beauty. Puerto Rico's southern region is comprised of 11 towns – Ponce, Coamo, Salinas, Arroyo, Guayama, Guayanilla, Juana Díaz, Patillas, Peñuelas, Santa Isabel, and Villalba – that offer remote and romantic beaches along the calm Caribbean waters and marinas. In Ponce, you can visit Museo de Arte de Ponce, which offers an impressive European art collection from the 19th century. Other attractions to appreciate in Ponce are el Parque de Bombas, la Cruceta del Vigía and the Castillo Serrallés. If you're looking for a relaxed and rejuvenating afternoon in a unique outdoor spa to cool off from the southern heat, visit the hot springs of Coamo, aka the "fountain of youth."
Central Mountains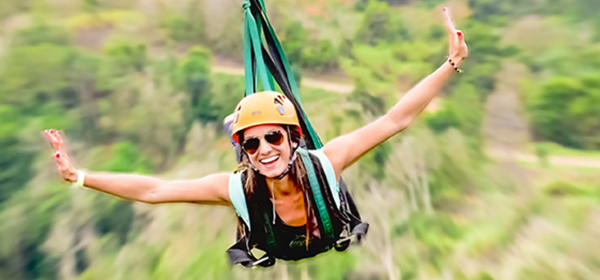 Puerto Rico's interior mountain region, la Cordillera Central, runs from the east to west through 15 towns – Adjuntas, Aguas Buenas, Aibonito, Barranquitas, Cayey, Ciales, Cidra, Comerio, Corozal, Florida, Jayuya, Morovis, Naranjito, Orocovis and Utuado. This region is filled with history and agricultural culture, made up of diverse vegetation and home to where most of the island's coffee is produced. Adjuntas is the place to be for some local flavor when it comes to coffee. Visit Hacienda Tres Ángeles for a tour of the facility, taste samples of locally grown coffee and enjoy amazing mountain views.
From plains, canyons and rivers to mountains and caves, this area is comprised of various scenery, which is great for travelers seeking adventures of all types. One of the biggest towns in Puerto Rico, Orocovis, is home to Toro Verde Nature Adventure park which is where one of the longest ziplines in the world is located. If you're looking for another popular activity in this region, consider Tanamá River cave-tubing tours which offers a perfect mix of deep adventure and leisurely rides along the waterways through subterranean chambers.